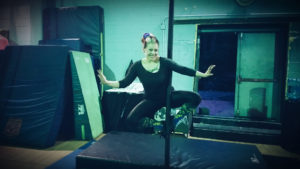 As a coach, it's impossible to go into other classes and not evaluate everything – how they're structured, the feel of the class, pacing, etc, and reflect on whether you're "delivering" for your own behbehs. Because students, particularly those new to circus, often have no idea what to look for in a class, here's a (hopefully) helpful primer.
The Warm-up Should Be Functional
A warm up should prepare your body for the misery it's about to encounter. What does that include? Excellent question, Watson. While warm-ups should be tailored to the apparatus or discipline (ideally with a spin towards what you'll be working that day), you'll likely encounter the following:
cardio to raise the body's temp & get your blood pumping (for some classes, the cardio element is built into the warm up, as opposed to a separate section)
moves to "lube your joints" with synovial fluid
muscle activation to get your muscles firing
stretches to ease your body into the anticipated range of motion
I prefer an on-apparatus warm up for the most part, as I feel it increases familiarity with the silk/trapeze/bowling ball/whatever that you're working with. That said, some coaches deliver an appropriate warm-up without it.
If each class starts with an 8 Minute Abs or Booty Blaster routine that pretty much has nothing to do with what you're learning in class, you're missing out on valuable training time.
Having a Teaching Philosophy is a Thing
Students will encounter two types of teachers: coaches who love to teach and have devoted time and energy to creating a style, pedagogy, and methodology, and those who teach because it's a side gig. Aim for the first, folks. 
A good coach plans what they will teach, can easily rattle off the foundational skills of whatever discipline you're working on, and has meaningful progressions in place to accommodate students of all levels. For example, aerial silks can be broken down into: climb, inversion, foot lock, hip key, ankle hang – everything else is a variation. You're free to have a differing philosophy, but this is the framework for my classes. Almost every blessed session, students will do variations of those moves (including a split, drop, and sequencing). If, after a few classes, you still have NO IDEA what the building blocks of your apparatus might be, or your teacher asks (my all-time least favorite question) "so, what do you want to work on today?", your coach may not have a developed teaching philosophy in place.
But what about progressions? Well, students come in at varying levels of strength, fear, flexibility, body awareness, etc. A great coach can break a move or concept down to teeny, bite-sized pieces, giving you challenging micro goals, attainable within a few sessions. No goal is too small. You should also have a good idea of what the end goal looks like. For example, when I give my handstand coach the "fear face" when the class is working on something terrifying, she gives me a crazy easy variation; she then helps me to connect the dots. BOOM. Progressions = progress.
Class Pacing – Faster…. Slower… a Little to the Left
A good pace is one in which students don't feel rushed, but they also don't have a lot of down time either (note to coaches – if you see phones starting to come out during class, and you're pretty sure they're not taking notes, adjust your pacing). Coaches structure classes differently, but you should feel reasonably engaged throughout the entire class. 
Theory & Technique
Theory is the "why"behind your discipline, technique is the how. It's important that you, as a student, know how this crazy thing works, so that you can eventually pick up the reins and do some driving yourself. You really, really want your teacher to have a good grasp of why you wrap your thigh here, or how to avoid hitting your hoo-hoo on the pole there, or why you want your arms super straight in handstands (turns out, you fall on your head if they're bent – who knew?).
Coaches who are light on theory are often light on technique, or have no idea what standard a student should be held to at any given stage in their progress. You want someone who knows where you ought to wind up, how to get you there, and what milestones you should hit (and celebrate – champagne and confetti!!!!) along the way.
Conditioning Should Be a Thing
That's it, really. This is your time to safely push your muscles to fatigue (it's why it's put at the END of class), so don't waste it. Again, it should be functional, and similar each time so as to actually accomplish the *conditioning* part of the equation. 😉
For more about choosing a great coach or class, here's a bit more for you to chew on. I'm still learning every day, every class I take or teach, how to share what I love, and I hope it never ends. Love and pull-ups, Laura