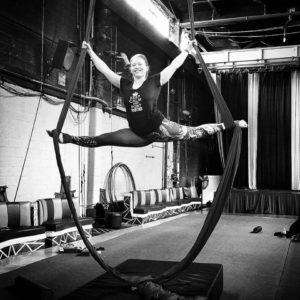 A couple of weeks ago, a number of videos surfaced from several studios featuring aerial fabulousness, but zero mats. What gives? Why the heck do we need mats? DO we really? What about "aerial yoga" or "aerial dance classes"? It's time for a candid convo about (….. drumroll please……) APPROPRIATE MATTING!!!!
(In)Appropriate Matting
In order for us to have a meaningful discussion on mats, we have to chat about the WHY of mats. You'd think that was pretty obvious (to cushion us when we splat on the floor, duh!), but different mats are better suited to different situations. Here are a few of the most common:
Yoga mats – good for honest-to-goodness aerial yoga classes (see below), where poses are NOT dynamic, they are kept low to the floor, and the hammock is used as a prop, not an apparatus. Hint: these are few and far between. Most classes billing themselves as aerial yoga are closer to aerial hammock – see below.
Gymnastic flooring/foam floor – a good compromise for low aerial dance classes. It provides a bit of cushioning, but is still firm enough so you don't break an ankle dancing in the floor segment.
Panel mats – I love firm panel mats for vertical apparatus! They discourage the "plop" factor (when students allow themselves to plop out of poses – BAD HABIT), while giving good cushioning for heels, butts, and other assorted body parts.
4 inch firm squish – my very favorite! These cover a lot of area, so I don't have to worry about falling off and twisting my ankle as I spot, but they're also cushy enough so I rarely have to bring out the….
Crash mats! I prefer crash mats for bar apparatus & hammock, because slipping or missing a trick generally results in a few feet of actual fall. I also use them for drops on rope or silks where there's a chance of a missed connection, or if I have a "let go" student and I don't want to have to wear Depends during class. I don't love them for daily vertical apparatus use as a coach, mainly because I've seen more ankle injuries occur with them than without (folks accidentally step off & twist an ankle). I tend to choose a firmer mat whenever possible if I need to be close to spot.
Foam pits – break out your flying tricks! This is generally for higher level moves, such as those worked on swinging trapeze, or catch-release partnering.
Professionals may or may not choose to use a mat for different things. They're professionals, and know what they need. Mind your business. As a student, you almost always need a mat of some kind, even when performing.
A Class by Any Other Name…
Know what really gets me all fired up? When studios or coaches call anything in a hammock "Aerial Yoga". Or when they toss basic safety protocol to the wind, and don't put mats under drops. If you take one thing away from this post, let it be this:
It doesn't matter what you call a class. Dynamic moves require mats. If a studio tells you they don't, RUN. 
Anything in a hammock is NOT aerial yoga. Even with unicorn hair. Know what is? Actual yoga poses done in the air with the hammock as a prop (for a great example in NYC, check out Unnata Aerial Yoga). What I mostly see is a circus class masquerading as a yoga class. How to tell the difference? If your yoga class is including "tricks" or "drops", you're doing circus. You need a mat. And a more honest class description.
Just because you call a class "Aerial Dance", doesn't mean you don't need a mat. REALLY?! Riddle me this: why would you need a mat for drops in a circus class, but that same drop in an "aerial dance" class is just fine on bare floor? It's an egregious breach of safety protocol, people. Demand better. If your studio does not provide appropriate mats for these sessions, begin to insist that they do so. Or, move your a$$ along to a more safety conscious studio.
My general rule of thumb is this (studios differ in their policies). You need a mat if:
You are doing drops or swings of any kind.
Your apparatus is higher than waist height, or you roll up in it higher than waist height.
You are standing on your apparatus.
You are nervous about a move (call for a crash pad).
You are doing silks or rope at any level.
If mats are not available to you in anything other than a true aerial yoga class, you are being put at risk. Be a smart consumer – look for mats. Love and pull-ups (and MATS), Laura
PS – a note for teachers – MODEL GOOD AERIAL HABITS. Unless it's a performance, please consider showing yourself using mats when you rehearse and train in your social media. It's not a great time for "do as I say, not as I do".