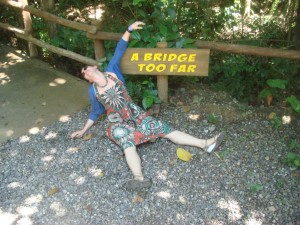 As a former southern lady, I do not sweat, I glisten. As a circus performer, I sparkle, and swear like a sailor when the fabric gets too friendly, the bar gets caught in my armpit, or the hoop slides right into my hoo-hah. CIRCUS! Circus comes with it's own set of challenges when the weather gets warm, and if you want to avoid looking like an electrocuted squirrel, you might want to anticipate some of them.
Feindish Fabrics
First, hold your nose. Fabrics get universally whiffy during summer, and it doesn't necessarily mean they're dirty (mine stay April fresh for 24 hours, then revert to wet dog and armpit, even with no one on them). Unless you see fumes coming off them, put a clothespin to good use and get climbing.
Friction will be your worst enemy when the weather gets steamy. Humidity makes fabrics so, so sticky, and fabric burns flourish. How to make it work:
Cover up! No matter how hot, cover that bod unless you want to leave a lot of skin on the apparatus. (Please note: I do NOT want you to leave a lot of skin on the apparatus. That is gross. Cover up.) Layers that you can take on and off work best.
Ask your coach about "humidity work-arounds" – tricks to make everything from foot knots to drops less sucky in the heat.
Modify your workout. Minimize or modify slack drops, sliding, or other high-friction moves – save 'em for, well, pretty much any other time of year.
Tyrannical Trapeze, Heretical Hoop
It's more friction-filled fun! Ropes, taped bars, so.much.joy. This is also prime time for clothing to wrap around said bars during dynamic moves (hip circles, for example – don't train alone!!!!). Don't be afraid to play with un-taped or powder-coated bars, or switch up tape brands to find one that works a bit better in the heat. It's also worth mentioning that metal apparatus are, well, metal, and will get supremely hot if left in the sun.
"DON'T TOUCH ME" Acro & Duo Work
Know what's lot's of fun? Spooning and bench-pressing another person when it's 90+ degrees in the studio and you're both sweating like piglets. It's so gross.
Work with a towel nearby – dry off often.
Use grip tape as needed, and play it safe when slips are likely.
Pay special attention to personal hygeine – don't torture your partner.
General Summer Circus Safety
Training circus in the summertime can be a hot, sticky, stinky mess, but it can also be incredibly rewarding. You may get to work outside, or train differently than you do the rest of the year. There's something weirdly, disgustingly satisfying about sweating so much, and muscles often loooooove hot weather.
There are some important guidelines for summer training though, mostly in regards to heat exhaustion or heat stroke. This is a VERY REAL danger, and can sneak up on you quickly. Practice safe summer circus by:
Drinking lots of water (duh). Every time you come down, grab a few sips. Resist downing a half gallon and then going upside down, though – it may come up faster than you can. Sassy Suggestion – freeze your water bottle (leave some room so it doesn't explode), then bring it to class and nestle it in your bosom as you rest. You're welcome.
Make good use of a fan – go stand in front of it whenever you come down.
Feeling a little too hot? Sit out your next turn or two. Get some ice or a cold soda can, and press it to your pulse points (wrist and back of the neck in particular).
Watch carefully for any dizziness, faintness, lack of sweat, cramps, very red cheeks, confusion, nausea, shortness of breath, etc. Heat-related illness can come on quickly, and requires prompt medical attention (delays can be fatal) – read this if you train outside or in a non-climate-controlled space.
Train hard this summer, and revel in your sweaty, stinky self! Be safe, and have fun. Love and pull-ups, Laura
As always, if you like this post, share it on your blog, the F-books, Twitter, and wherever else you crazy kids are sharing things these days.