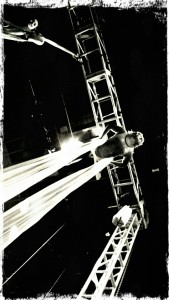 Hello, Dear Danglers! I'm off to Washington to teach some workshops for C2Air and the lovely Rebecca Phillips! But before I go, let's have a chat.
Students come to classes for a bazillion reasons – to frolic in the air, run away and join the circus, get buffity-buff arms, you name it. Part of learning a performance art (as opposed to going to a group fitness class) is the attention paid to technique, and the pursuit of excellence – you're not just heaving your limbs around so you can cross exercise off your list for today, you're aiming to hone a set of skills. So, my question for you today is: are you in it for the long haul, or are you just about turning a few tricks?
It's a Process, Mathilda.
Remember last summer when you bought that super cute top? The one with the neon green fringe and the tropical flowers that you wore every day for two months (hey – I'm not judging you…..)? Now, remember the day you bypassed it in favor of your NEW neon orange top with the rhinestones and tulle? I'm sure this phenomenon has a fancy psychological term, but I'm gonna call it The Law of Diminishing Bling – when the new and shiny wears off, and the thing we loved beyond anything doesn't beckon to us with the siren song it used to croon. When this happens with a skill we're trying to master, we're faced with the uncomfortable realization that the long walks on the beach and champagne at breakfast days are over, and have been replaced with beer on the couch in comfy clothes. Is your first impulse to start sniffing around for something to press your New and Shiny buttons? Oh, Mathilda.
It Takes a Damned Long Time to Get Good
When the slog of the long haul stretches out in front of us, it's so tempting to hanker for MORE MORE MORE NEW MOVES MORE NEW MOVES TEACH ME SOMETHING NEW RIGHT NOW!!! While variety is the spice of life and all that, and it's important to sprinkle some NEW into your work on a regular basis, I'm sad to tell you that the vast majority of training boils down to (some very un-sexy) repetition repetition repetition. I regularly see students chomping at the bit for NEW! MORE! SHINY!, but if I'm still having to give you basic technique notes on your inversions, then you need to change your focus, friend. New may be fun, but it's not going to fix what's broken – it just gives you new broken. But take heart, you're not doomed to a purgatory of the same movement forever.
Keeping the Romance Alive
If you can't have as much NEW! MORE! SHINY! as you want (and none of us can), here are a few ways to spice things up.
Video. Please believe me when I say you have plenty to work on! Video your work, and/or ask your coach what one thing would make the biggest difference in your training. Set a hard and fast goal (straight legs on your inversions, for instance), and attach a reward to it's completion (a neon yellow top, perhaps?).
Explore yourself. Not that way, Mathilda! Geez. There's nothing more exciting than watching your students become more themselves in the air – discovering their own personal style, and mining all the quirks that will make for fabulous and interesting performance. In addition to perfecting your technique, begin playing with small variations, an arm here, a leg here, opening the fabric, etc. How do YOU move? Start discovering, because the world doesn't need any more cookie-cutter aerialists.
Set a performance goal. Sign yourself up for a showcase, competition, or anything else that gets your engines revved. Not only is it invigorating for your practice, but it will strengthen performance skills, build stamina, and increase your personal levels of badassery!
Keep a training journal. Anything goes! Make notes on moves, corrections, ideas, etc. This one thing will juice up your training in ways you can't imagine.
Hit the YouTubes. There's a dizzying array of performance to inspire and excite you! Many of these artists have put in their 10,000 hours, and it shows.
What puts the spice back in your training? Comment below! Love and pull-ups, Laura




As always, if you like this post, share it on your blog, the F-books, Twitter, and wherever else you crazy kids are sharing things these days.