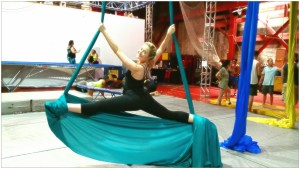 Learning is a two-way street, my lovelies. Gone are the "open head, insert knowledge" days of education (praise be!). The students who learn the most are the ones who engage most fully with the material, whether it's nekkid mud wrestling or aerial silks. Are you meeting your teacher half way, or expecting them to do all the work?
Circus Is Active
Circus is active (WHAT??!!). Whether you're a visual, aural, or kinesthetic learner, at the end of the day, the magic of circus actually happens when you get up and flip/flop/balance/splat/twirl/spin/perch/swing/clench/slide/pee a little/heave/fly/fling yourself on your chosen apparatus or a mat. We all process information in wildly different ways, and each of us has a preferred method of encountering new material. Even more fun? We may not even know what that preferred method is! But, one thing is certain: you ain't gonna learn it without actually doing it.
My "New York Method" of Aerial Learning
New York is fast-paced and decisive – you either do your thing, or get out 'da way. In SassyPants Aerial group classes, if you just stare at me waiting for Divine Inspiration, you lose your turn!
My students here in NYC are a varied group for sure, and not lacking in the personality department (yeah, I'm looking at you, Tuesday 6:45). Some like to talk through everything before they approach the silks, some have to see it, and some just have to get up there and slog through it.
When encountering something new, try this:
Watch demos carefully, and try to identify which base skill the move is built on.
Listen to verbal cues, and do exactly and only what your coach asks you to do.
Do what you know, and ask for clarification. Ask for a spot if you feel unsafe doing a move on your own.
Completely mystified? Ask what the first tiny step is. Then do that step until you're comfortable.

Please don't:
Be on your phone, daydreaming, or chatting while your coach is demoing or speaking. Pay attention.
Just stand there and stare. I cannot do it for you, so you're going to have to meet me at least half way. If you're super confused, ask what the first step is, ask for a demo if you need it, and begin. You don't need to analyze "A Portrait of the Artist as a Young Man" before you attempt a climb on silks. You DO need to touch the fabrics.
Insist that the teacher focus solely on you. If you feel paralyzed unless the coach is right next to you, it might be time to book a private, or switch to a lower level class.
Sulk and get an attitude (this will make your teacher stabby).
New stuff can be scary, confusing, and intimidating as an adult. The more active you are in the process of your learning (literally ACTIVE), the easier it gets. Have fun and stay safe! Love and pull-ups, Laura



As always, if you like this post, share it on your blog, the F-books, Twitter, and wherever else you crazy kids are sharing things these days.