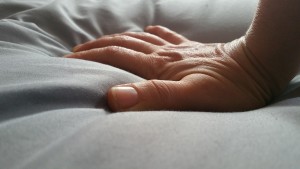 Do you train on squishy mats? Do you do handstands, push-ups, or other gymnastics on a squishy mat? Do you routinely wrestle finely-muscled athletes in a tub of Jell-O on a squishy mat? Just asking on that last one (send photos). If you do any of these things, you could be unknowingly courting a hand injury that I didn't even know was a thing until it happened to me – SKIER'S THUMB (cue ominous music).
What is Skier's Thumb? Why Might I Be at Risk?
Skier's Thumb is a more common injury if you ski. Before you ask, no – I don't. And if I did, it would probably look something like this.
It's a soft tissue injury to the ligaments in your hand, most often occurring when skiers fall, splay their hands, and land on their poles – pushing the thumb back with force. Know how else you can get it? Yep – you guessed it! Training on squishy mats. What's really unfair? It can develop over time. Merp.
If you're an aerialist, you'll notice a lot of tenderness around the base of the thumb, pain while gripping, and perhaps referred pain in the wrist. Your grip between thumb and forefinger will be weaker, thus diminishing your overall grip (so not a good time to do that "trapeze over a shark tank" act you've been dreaming of). It can also come with a hefty dose of thumb pain in any direction.
How Can I Prevent It?
Well, don't train splayed-hand moves on squishy mats! Also – don't ski (or at least don't fall down).
What constitutes a squishy mat? Any mat where your palm is lower than your thumb when you're doing a push-up. Sprung gymnastic floors are great, and firm panel mats or hard foam floors are usually OK. Soft mats like crash pads are horrendous, as are most mats that are going to feel nice and soft if you fall down on them. For the hand muscles to properly engage, the thumb and fingers shouldn't be bent back.
Dammit – Too Late! How Do I Treat It?
Get thee to the doctor for a proper diagnosis! They'll likely recommend the usual (ice, rest, NSAIDS), and if there's a complete ligament tear, surgery, with PT to follow.
Mine sneaked up on me a few years ago, and EVERY TIME I see someone training gymnastic movement on a squishy mat (handstands, cartwheels, etc), I have to fight the urge to tackle them and ACE bandage their thumbs. But that would be weird, so I wrote about it instead.
Keep those hands healthy – they're kind of important in the work we do! Also – I wanna see that shark tank act. Love and pull-ups, Laura

As always, if you like this post, share it on your blog, the F-books, Twitter, and wherever else you crazy kids are sharing things these days.