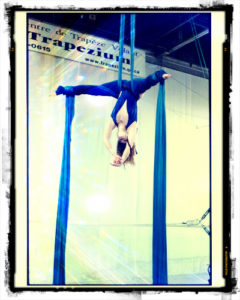 September is here, friends, and with it, the start of a new school year! Even though I haven't seen the inside of a formal classroom since Methuselah was a boy, there's something about September that makes me want to buy a pencil box and enroll in something. It might just be me, but judging by the uptick in my classes each September, I suspect I'm not alone.
Many of you have written with questions about whether you really need a structured program if you want to pursue circus professionally, or if you can design your own curriculum and still get ahead. Not surprisingly, much like circus, there's a lot of room for flexibility (HA! Did you see what I did there?) and creativity.
---
"That depends a good deal on where you want to get to," said the Cat.
"I don't much care where–" said Alice.
"Then it doesn't matter which way you go," said the Cat.
"–so long as I get SOMEWHERE," Alice added as an explanation.
"Oh, you're sure to do that,' said the Cat, `if you only walk long enough."
– Lewis Carroll, "Alice's Adventures in Wonderland"
---
It Depends on What You Want to Do
When you picture yourself performing in that far-off future, what do you see? Are you twirling on fabric in all your spangled glory for a corporate event? Are you in street clothes and performing with 7 Fingers or Eloize? Are you busking on a sidewalk in France? Swallowing swords on Coney Island? Teaching and running a successful aerial fitness studio? Touring Asia with Cirque du Soleil? Each of these avenues can unfold in ONE career, if that's something you want. Only interested in corporates? Sweet – you have a niche! Are you more sideshow than side split? Break out the bed of nails. There IS no correct path to becoming a circus artist (it ain't med school) – you've got options.
What Are My Circus Education Options?
Circus "College"
Pro-track Program
Choose Your Own Adventure
Circus College
When most of us think of "circus college", we think of structured 3-4 year programs, similar to regular college, but with a lot more sweat, sequins, and physical therapy. In this type of program, your first year is usually spent learning everything from hand balancing to trapeze to unicycle, the goal being to a) help you determine a specialty and b) create a strong multi-skill base, resulting in artists with tremendous range (ex: a trapeze artist who juggles, tumbles, does lyra, silks, and a bit of contortion).
Example of Circus College – Ecole Nationale de Cirque
This is a great option if you are at the early end of your career, and hope to join up with established circus companies (or create your own). For a great example ensemble work beyond the biggies (Soleil, Eloize, 7 Fingers, etc.), check out Flip Fabrique – that's a cast of 6, not 40.



Pro-track Program
Pro-track programs are usually 1-3 years, and are a popular choice, offering intense, focused training in a variety of disciplines. They are generally more flexible than "circus college" tracks, and a fantastic option for many students.
Examples of Pro-Track Programs – NECCA Professional Circus Performance Training Programs, Aloft Full Time Training Program
A Pro-Track program is a great option if you're at the beginning of your career (or looking to reinvent your work), and hoping to join ensemble shows, corporate performance, or pursue circus education as a career.
Choose Your Own Adventure
The world is your oyster, friend! I knew – beyond a shadow of a doubt – that I wanted to be a fabric artist (this was back in the olden days before everyone was a fabric artist). I didn't want to learn flying trapeze, unicycle, juggling, tumbling, none of it – I  wanted to do fabrics fabrics fabrics. ** So, I worked privately with top coaches in Montreal, and did exactly that!
When you choose your own adventure, you put together your own curriculum, perfectly suited to your interests and goals. The downside? You don't know what you don't know (ex: should I have theatrical training?), perhaps don't have access to the top instructors in each area, and this type of training can cost more than a program, depending on where you are. It's also easy to get side-tracked, and discouraged about your training, especially if you're surrounded by recreational folk. The upside is that you get to do exactly what you want to do, it may take less time, and you can fit training around a full-time job, or a traditional college.
This is a great option for people starting a little later, working around a job, school, or family, performers looking to add only one or two skills to their repertoire, or pursuing skills that fall outside the common circus curriculum (fire, for example).
Examples of Choose Your Own Adventure – training with ME (or your local aerial/circus studio), traveling for intensives and workshops, supplementing with dance and theater classes, business classes, specialty skills workshops and courses like Sideshow School.
** Side note – the days of only having one act are long gone (in fact, they only lasted a brief moment). If you really want to work, make sure you have an aerial act AND a floor act. Two aerial acts (with flexibility on additional apparatus) can work in a pinch, but I wound up with the career I had only because I teamed up with my better half (Angela Attia) and we could provide two double acts and additional solos between us.
In closing, there's no one path to becoming a circus artist. In fact, the skills are only 50% of the equation (yep – you heard me right). The rest is sheer hustle, business savvy, people skills, and creativity. BUT, hopefully this helps you get a sense of your options – a program or school is a great option for some, but certainly not the only way. Brainstorm your options, evaluate your resources, and see what is the best fit for YOU! Love and pull-ups, Laura
Recommended reading: "The Art of Non-Conformity" by Chris Guillebeau




As always, if you like this post, share it on your blog, the F-books, Twitter, and wherever else you crazy kids are sharing things these days.