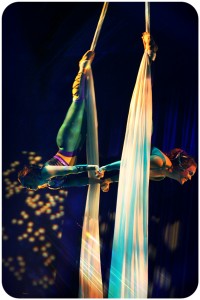 "NEVER point your toes in a double ankle hang." (false – depends on the wrap)
"ALWAYS immediately trash all rigging that has been dropped." (false)
"NEVER question your instructor." (absolutely absurd)
"ALWAYS bring your teacher wine and chocolate!" (ding ding ding! We have a winner!)
I teach an ankle hang that allows for pointed toes. If I had a dollar for every time I told a new student to point their toes going in, and heard, "But my teacher said NEVER to point in this hang!", I'd be a rich woman indeed. I ask, "Why not?" (…..crickets……..) The student never has a real answer, they're just fairly certain that they'll die if they point their toes. Now, I'm all for erring on the side of caution, but the "why" matters in circus. It matters a lot.
I've been teaching for 17 years (do us both a favor and don't do that math), and here's one of the biggest differences between unseasoned instructors, and those of us who have been around (and around and around) the block: we know our theory. We know WHY you wrap to the front. We know WHY you shouldn't point your toes here, but totally can here. We know WHY you're flailing around like a demented bumble bee on your split wraps. And YOU can know why too!
Understanding the theory surrounding your apparatus or discipline allows you to "get it" from the inside out. Try to:
1. LISTEN. Start listening for the whys. I (mostly) guarantee your coach drops little nuggets of theory here and there – train yourself to listen for them.
2. WRITE IT DOWN – take notes. Take notes take notes take notes. You will progress faster, and you'll find yourself becoming a little circus detective. Write.it.down.
3. ASK – ask questions! If you can't see an obvious reason for something, ask a question. Not sure what's holding you in the air? Question. Maybe see another way of doing it? Question.
4. QUESTION AUTHORITY (Trust me – I'm a teacher.) – As your understanding grows, you may suspect that your coach is teaching something a particular way because that's the way they were taught. A good coach will JUMP on a better (or even different) method – be it getting into a move, communicating an idea, or reevaluating their theory. Respectfully engage in a bit of detective work, but don't be a twerp about it. Phrases that can help include: "I'm having trouble understanding why we do xyz this way. Can you help me with this one?" Or "Are there other ways of getting into that? Could you also…." If you're not a disruptive poo head about it, most coaches are happy to explore.
Now, I'm not suggesting that you make your teacher want to take out a hit on you by challenging them on everything that comes out of their mouths – it's a fine line between eager & curious and confrontational & obnoxious. But take charge of your learning! Some folks have an absurd notion that learning is a one-way street from teacher to student (all you teachers just started a hurricane somewhere in the South Pacific with all that eye rolling you just did). True learning is anything but passive!!!! Pursue the "whys" and watch your training get deep like an ocean. Now, where's my wine and chocolate? Anyone? Love and pullups, Laura