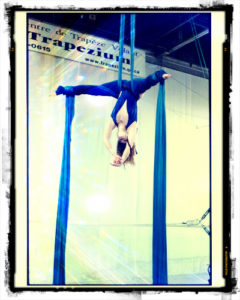 WELL. After I decided to embark on my fancy Circus Intensive, I figured it would be good if I didn't, you know, completely break myself the first week. Now, I've taken A LOT of injury prevention workshops (hell, I've even taught one), but I'm gonna be honest – none of them really addressed injury prevention in a way that seemed complete for me. For example, some dealt with shoulders, but shoulders aren't the only places we're likely to get injuries. Some focused solely on correct positioning. Mine focused a lot on preventing catastrophic injury (for example, students are more likely to get badly injured if they bring a friend to class, or when switching instructors). I needed an actual game plan for not blowing out MY body. I needed something that addressed my goals, my weaknesses, and my schedule.
Enter Cirque Physio's resident miracle worker, Jen Crane.
Cirque Physio
Are you familiar with Jen's work? If not, I don't know what you're waiting for. Get over to her website right now. Jen is a physical therapist with an addition "orthopedic certified specialist" (OCS) behind her name. This is mui impressive on it's own, but wait for it – SHE SPECIALIZES IN CIRCUS. She DOES circus. Friends – she totally gets what we do. She gets what we do better than WE do!
I've been following her excellent blog for a while now, so I decided to poke around on her site to see what I could glean. In addition to programs designed to support flexibility training (see below), Jen also offers Skype consultations for injury-free artists looking to prevent injury, increase range of motion, etc. So, I set mah-self up with an appointment!
What's it Like Working Virtually with a PT?
I know what you're wondering: how good could a Skype consult be? Could she really see anything? Could you?
Prior to the session, I filled out a detailed form which went through my medical & injury history, career, etc. On session day, after hammering out some technical difficulties on my end, Jen and I had a great chat about where I was in my training, my injury history in circus, and what I really wanted to get out of the session. Because I had filled out the form, we didn't have to spend forever on backstory, and were able to move to the nitty-gritty quickly.
She asked me about my training schedule, and made some great recommendations (drop an aerial class, pick up a handstand class) to balance my training. She's also making me rest. You can't see my face right now, but it's not cute. Nevertheless, she's totally right – rest is essential. Grump grump.
She then took me through several exercises to evaluate my range of motion (spoiler: my ROM was not good). From there, we went through the exercises she was prescribing for me, which she then emailed in a lovely PDF.
The whole experience was remarkably empowering! I came out of it with a good understanding of what I needed to aim for form-wise, permission to take time off from training, and a game plan for addressing my weaknesses and keeping my body zoom zoom zoomin' along. It was EXACTLY what I had hoped for!
Below is a list of Jen's stuff that I have found fabulously helpful, as well as a couple of other resources in my "Keep It Together" arsenal. If you're coming back from a break, just getting started, or want to troubleshoot problem areas, I cannot recommend a session enough – the exercises have already made a HUGE difference in my ROM and stability. Five stars!
Cirque Physio
Additional Stuff
Shoulder School – this video is good for strengthening the shoulder & increasing ROM.
Happy…. well, happy injury prevention! Love and pullups, Laura