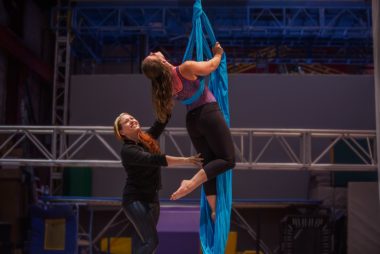 I offer private lessons in:
Aerial silks
Beginning lyra (aerial hoop)
Beginning trapeze
Aerial hammock
Choreography & act creation
Sessions are taught out of SLAM or Big Sky Works, and availability varies depending on the space. Zap me an email and let's get this show on the road!
Private lessons – $95
Shared privates – $120 ($100 for students with a class card)
Private groups – $35 per person (4 person minimum, 12 person maximum)
Special events (bachelorette parties, birthdays, etc.) – $35 per person (4 person minimum)
Looking for someone to share with? Join my FaceBook group and ask if someone would like to jump in!
Email me to book a private!
Questions? Zap me an email at sassypantsscheduling@gmail.com.
---
Thank you for the best hour of my day yesterday! Even with sniffles it was super productive and FUN! – Rachel F
---