Adult Aerial Silk Group Classes in NY
What exactly are you waiting for?
If you're waiting to be "fit enough" to start aerial training, let me make things a little easier for you. When I first started, I couldn't even hold on to a trapeze bar for ten seconds. Oh, and did I mention my debilitating fear of heights and a shoulder injury? Contrary to what you may assume, you don't have to be superhuman to train cirque-style. You do need to be prepared to work your muscles hard, open-minded enough to learn something new, and willing to just show up. Oh, and bring your sense of humor – being able to laugh when you've managed to tie yourself into a knot with a leg around your head is essential! Come give it a try – what are you waiting for?
Beginning Silks
Usually scheduled Sundays at 1:30 & 2:30 at Big Sky Works. Check the calendar for the latest!
It's back to basics in this one hour introduction to aerial silk. Work at your own pace as we learn climbs, inverts, locks, and slides every Sunday afternoon.
Basic climbs – work smarter, not harder! Maximize the strength you already have to haul your tushie up those fabrics.
Inversions – A key building block of fabric work, we'll learn the perfect progression to have you booty-to-the-sky in no time.
Foot Knots – a can-do from day one! The "meat and potatoes" of resting on fabrics, you'll love this part.
Splits – yes you can!
Basic move and techniques – what they are, why we love 'em. Learn a sassy "training wheels" progression to meet you where you are, and get you to where you want to be.
Don't worry! (Stop it – I see you worrying).
Conditioning for BOOM-level hot muscles
Sign up now!
Open Level Silks 

Usually scheduled Sundays at 3:30 at Big Sky Works, and Monday & Tuesday at 6:45 and 7:45, and Thursday 6:30 & 7:30 at SLAM. Check the calendar for the latest!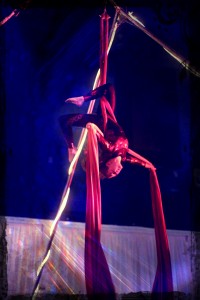 It's an open level class – come one come all! Perfect for beginner and intermediate student alike, I teach to your level. Class format includes something old, something new, splits, drops, and themed choreography for a sass-tastic good time.
  A variety of climbs – haul your tush up the fabric with some style.
Drops – every act needs them! Safe, fun, and thoroughly badass.
Vocabulary for days. Let's go nuts with moves! Variations on splits, hip keys, foot knots, and common drops.
Sequencing – whatcha gonna do with all those moves? Learn to put 'em together!
Torture – I mean, conditioning (pull-ups, inverts, intense upper body and ab work to complete fatigue)
Everyone welcome! Yes you can!
Sign up now!
Have questions? Check out the FAQS page!
---
"I feel strong and beautiful at the same time." – Rachel F.
---