Bachelorette & Birthday Parties!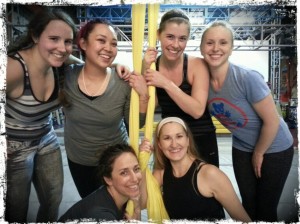 You're not boring or "everyday" – why should your party be? SassyPants Aerial Arts can create a one-of-a-kind experience, perfect for bachelorette parties, birthdays, or just friends getting together to try something new!
Here's the scoop:
Minimum of 4 participants, no maximum!
$35 per person
A deposit of $140 is due upon booking, and the remainder is due 48 hours prior to the party.
Sessions are one hour long (can be extended for very large groups) – enough time to have a lot of fun, but not so long that everyone is too tired for anything else!
Afraid of heights? No upper body strength? No problem!!! We have a ridiculously good time in a low-pressure, safe, and fun environment. Trust me – you're going to surprise yourself!
Email me to book a party!
Once we've confirmed a date, just click the button below to make a deposit and you're all set!
Parties canceled 48 hours before the class will be subject to a $40 cancellation fee. Parties canceled on the day of the session, or no-shows, will forfeit their payment.
---
"Our aerial silks class with Laura for my sister's bachelorette party was the highlight of the weekend.  I couldn't have asked for a better experience, and Laura was a dream to plan and work with.  She was an amazing instructor who really tailored our session to our group.  Though we were all beginners, everyone looked strong, graceful,and beautiful on the silks.  Laura made us feel safe and comfortable while also fitting in far more climbs than I expected and all kinds of different poses, splits, and drops.  We all had ample time to try myriad different poses and do them as many times as we wanted.  Under her watch, we were far more capable that I would ever have dreamed.  I wasn't sure how high I'd want to go because I don't love heights, but with her careful instruction, I felt fearless.  Laura made the class incredibly fun, allowed us all to work at our own level, and made sure we got fantastic photos!  Overall, the experience was exhilarating and empowering–we floated out of the studio and talked about it the rest of the day.  All the girls were so impressed with me for my planning prowess, some of us have found a new hobby, and we definitively had one happy, happy bride!  Thank you, Laura!!" – Ellie H
---