---
 "Laura Witwer has been my aerial trainer for the past two and half years. In that time, Laura has pushed me to become stronger than I ever dreamed I could be.  Her classes are intensely challenging; however, she tempers the hard work of training with encouragement and laughter.  Laura pushes me to expand my physical capabilities and artistic style, while maintaing a safe and supportive class atmosphere.  Even though some moves still make me nervous, {aka flippy doodle lol} I always feel safe under Laura's guiding words and watchful eye.  She always gives personal attention and corrections; Laura stresses technical precision as well as artistic development.   Training with Laura has been amazing, I have grown professionally, physically, and artistically with her guidance and support. "- Hannah Risner – Dancer, Pilates instructor, Aerialist
---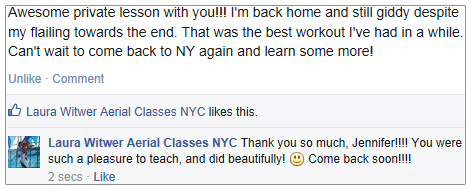 ---
"I look forward to every Tuesday because I have aerial class I have with Laura. It is a great release of energy after a long day of being a Nursery School teacher. I have been attending her class for over a year now and my body cannot thank me enough. I'm stronger and leaner than I have ever been in my life. Laura makes each class different and exciting while really giving each aerialist the individual instruction they need to succeed. I am never bored and I feel like I have super powers afterwards. I've always fantasized about running away to the circus when I was younger and it is a dream come true now that I can stay in the city and learn this fun, addicting skill. "Look what I can do!" is a phrase my students are now hearing from me on the monkey bars!" – Charlotte Dunn, 28, Nursery School Teacher
---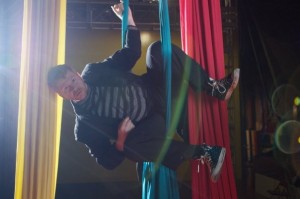 "Laura Witwer's teaching style is one of grace, beauty and tough love.  The elegance of a ballet dancer, the strength of body builder, and the tough love of life coach – Laura has it all and gives her all. Every student who's ever come to Laura's class has left a better person.  From her students going on to perform in Cirque du Soleil, cruise ships, and national tours, to bankers, lawyers, doctors and housewives having an alternative workout.   Everyone leaves a changed person after working with her.  As a performer, Laura takes you from the ground to ethereal heights. Atmospheric aerial dances, comedic duets to high level acrobatics rivaled only by the pros in Cirque du Soleil, Ringling Brothers Barnum and Baily Circus and Big Apple Circus.   Elegance, beauty, grace and strength are words to characterize her work, but the biggest and most important word is SAFE!  Laura is not only a highly trained acrobat, performer and teacher, she's also highly educated in rigging, acrobatic safety and spotting.  In the 6 years I've known Laura, she's never had to ask for a band aid or an ice pack and students have never had more than a bruise or minor abrasion.   She's the whole package, the real deal, an asset to the world of aerial training and performance with highest regards. " – Bobby Hedglin-Taylor- Aerial coach, acrobatic trainer and Aerial Sequence Choreographer- SLAM-the Streb Lab for Action Mechanics.
---
"I have been taking classes with Laura Witwer for a few years now, and I will say that Laura is professional, challenging and incredibly fun as an instructor. She strikes the perfect balance of support one needs to feel comfortable with a new skill, and strictness once she is familiar with a student to ease them further into their craft. Plus, she is super fun! I wasn't used to not getting a new skill immediately. I think a big lesson I have learned from Laura and fabric is to enjoy the process of being a beginner and learning to challenge myself to work for my advancements. She has made that journey easy to enjoy. After a class I feel refreshed and excited about what I am learning, what I need to work on and what I may have just mastered. It feel like it just flies by. I am proud of where I am and how far I've come as an aerialist. When I started I couldn't have imagined how far I could go and now after a lot of training and Laura's guidance, I am confident that I will reach places I've never dreamed of." – Sarah Novotny – Actress/Performer/Aerialist
---

---
"I've been taking Laura's class for quite a few years and I LOVE it!  If you had told me, a girl who's never taken a dance or gymnastics class, that I'd be hanging upside down and doing "drops" I'd have said you were crazy, but here I am doing moves like "the full monty" or the "jungle gym" and I feel strong and beautiful at the same time. Aerial silks can seem scary but not with Laura.  She puts safety first and has encouraged me to do things she knows I can do but has also paced me so that I'm not doing anything I don't have the strength for or understand.  Laura teaches by breaking down each move until students get it and will often stop to explain why the silk wraps the way it does and also, how not to wrap the silk.  The other reason I love taking Laura's class is that she is funny! Classes are hard but they are fun…isn't that the way it should be? So, climb don't walk to Laura's class…you'll love it!" – Rachel F, Corporate Genius by Day, Aerial Ninja by Night
---
"I had absolutely no idea what I was getting myself into when I first ventured into Brooklyn to go to my first 'Aerial Fabric' class with Laura in June of 2008. I was nervous, and even more surprised at myself that I even went! The moment I walked into the space where I would begin my training, adrenaline kicked in. Laura approached me and welcomed me to class with a huge smile and ripped biceps. After my first class, I was hooked (and incredibly sore). I could not wait to go back the next week. I felt like I was back in dance and gymnastics, feeling younger and strong, a feeling I thought was gone forever.   From the beginning, Laura was incredibly supportive and optimistic about my ability, as I saw with every student she had no matter their age, size or physical limitation.  She pushed me harder and harder the more ability I gained. Before I knew it, I had my own silk, was training 2-3 times a week, was performing, and I also lost about 20 pounds!!!!!  One thing I love about her classes is that no 2 classes are the same. Every class I walk into, I have no idea what to expect, EXCEPT that I will be trained hard, diligently and of course will have fun (we laugh a lot too).  If you find yourself stuck, and she knows you can get yourself out, she will push you because she believes in you. I love walking out of class with a feeling of realization of how far I've come since my first class. I honestly never thought I would be able to invert, wrap, drop or bend and touch my toes to my head again. What I have fallen in-love with about all aerial work, is that it requires an intense amount of determination, strength, and responsibility, while also having the element of sensuality, beauty and fear.  Laura's classes have changed my life and who I am today. I cannot imagine how boring my life would be without Laura and her classes, and I am so glad I got the guts to go to my first class over 3 years ago. And now I can honestly call Miss. Laura a dear friend and trainer who really enjoys torturing me to the max, and I am eternally grateful to her." Kendall S., Massage Therapist

Want to see more reviews? Check out my Yelp page!