Life as a Professional Circus Artist
Yes – it's as zany and fabulous as you can imagine! Since 2001, I've been working around the world as a professional aerialist, and loving (almost) every second of it. Highlights include performing at the Olympic Stadium in Greece, Casino Estoril in Portugal, Las Vegas, The House of Blues in New Orleans, Sea World's VIVA show, and hundreds more. I've toured with Cirque Productions, Cirque le Masque, Circus Nexus (lots of cirques!) – and more. In 2002, I teamed up with Angela Attia to form ImaginAerial, currently one of the top-ranked cirque-style companies in the world.

Book a class!
Training, Certifications, and Why I'm Qualified to Torture – er, Teach You
I've been teaching professionally for sixteen years, and pioneered many of the techniques, spotting positions, and safety guidelines used in teacher training all over the USA. Additionally, I am an ACE certified personal trainer, founding member of NYATA (NY Aerial Teachers Alliance), member of American Circus Educators, and I hold specialty certifications in pre/postnatal training, increasing flexibility, athletic injury prevention, and more.
Getting a Little Personal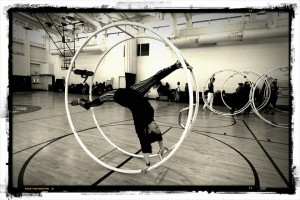 When I fell in love with circus, I had never so much as turned a cartwheel. I had noodles for arms, and couldn't do a pull-up if my life depended on it! My teaching philosophy is this: circus is for everyone (and that includes you!).
My husband, a lighting designer, and I met when I was on my first aerial gig in NYC; we now have a little boy who occasionally pops into class to amuse (terrorize?) my dear students. I still perform, and started training on German wheel a few years ago. I'm awful at it, but I'm having a blast! The adventures keep on coming, and I love love love what I do. My students have gone on to perform with Cirque du Soleil and other professional circuses – LOVE THAT – and some do it just for fun (love that, too!). Come join me – I'll see you in the air!
Check out my ImaginAerial Promo!
Fancy Certifications and Whatnot
Founding Member of NYATA (NY Aerial Teachers Alliance) – a group of teachers dedicated to fostering excellence in aerial instruction.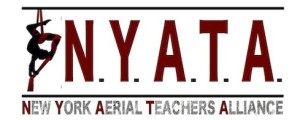 Member of the American Circus Educators Association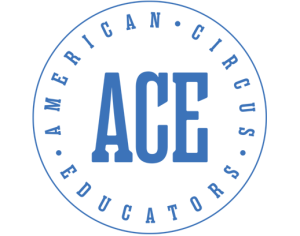 American Council on Exercise Certified Personal Trainer

First Aid CPR AED Certified (American Heart Assoc)
Pre-And Post-Natal Fitness
Exercise for Special Populations
Sports Nutrition (CEC)
Mind/Body Awareness (CEC)
Psychology of Motivation & Achievement (CEC)
Athletic & Sports Injuries (CEC)
Home Workout Design (CEC)
Flexibility Program Design (CEC)
---
"If an acrobat wakes up in the morning and doesn't hurt, chances are he's dead." – Russian circus proverb
---