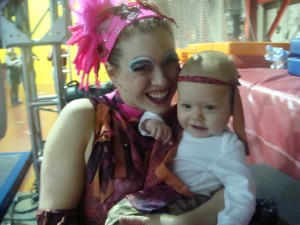 Glorious Aerial Mamas (or Mamas to Be)! It's the post you've been asking about – WOOOT!
After nine months of barfing, heartburn, waddling, waiting, and planning, your beautiful bebe is finally nestled in your arms. Now that your body is somewhat your own again, I know you're DYING to get back in the air. But when is it safe? When should you expect your body to feel like itself again? And OH MY GOSH – the overwhelm! How does this WORK?!
Weeks 1-8 – Not So Fast, Sistah
If you're still pregnant with your first, there's no way to adequately explain to you what I lovingly call The Baby Bomb – when the wee miracle finally gets here and blows your world to smithereens. There is truly no way to communicate how dramatic a shift this is (you wouldn't believe me anyway). But here are some things you'll be encountering:
Hormones – your hormones are doing the watusi! You'll feel elated one minute, and burst into tears 30 seconds later. You will likely have a touch of The Baby Blues (a hormone-induced depression), and, depending on your situation, you may have more than just a touch. It feels so incredibly wrong to have feelings of depression when everyone tells you that this should be the happiest time in your life, or to "relax and enjoy the baby". Please know that you are not broken, you are not alone, and this does not mean you are not or will not be a good mother. Talk about it, and don't be afraid to ask for all the help you need.
Breastfeeding – they suck the baby weight right off you! WIN! But be forewarned – no one has ever done that to your nipples (unless they have, masochist). Investing in a good breast pump can give you a bit of freedom in a few weeks to go train a bit by yourself.
Sleep – ha! You ain't gettin' none. Newborns nurse about every two hours. The ideal sleeping situation is the one in which everyone gets the most sleep. Every baby is different, every mama is different. Experiment and don't let other people's parenting philosophies (or one you've decided to adhere to) prevent you from sleuthing out what works best for you and your new family.
Support System – friends, partner or husband, family, Facebook, whatever. Create a support system and USE IT! There's a ridiculous perception that the modern woman does it all herself. Bullshit. Ask for LOTS of help.
Lochial flow (bleeding) – thinking about jumping on those silks before 6 weeks? Think again. I tried at 4 weeks, predictably overdid it, and nearly wound up in the hospital with maternal hemorrhage. Relax. Take the time off – it's OK. Another 14 days is not going to kill you. 🙂
C-Sections – getting back to exercise and training becomes a bit more complicated after major abdominal surgery. If you've had a C-Section, you're looking at 8 weeks before you can start moving meaningfully again. This is a real thing for you too, Superwoman! You can set your training back months or years by not letting your abs heal.
Diastisis Recti – this is a separation of the rectus abdominus muscle, which occurs frequently in pregnancy. It takes time to knit that split back together. Jumping back in too soon can widen the gap – give it time. Here's a great resource. 
Colic – your baby may be a super mellow cuddly cherub of an infant. Mine screamed like a banshee (we nearly called in a priest for an exorcism). Like Gump and his chocolates, you never know what you're gonna get. If your baby is "spirited" or high-needs, you may find yourself too drained or overwhelmed to think much about training. It's OK. This won't last forever, and you WILL figure this out.
Productivity – are you a Type A super productive person? Not anymore, you're not! Brace yourself. One of the toughest adjustments is the near constant interruption – diapers need changing, tummies need filling, bebehs need comforting, etc. It's a lot. You'll sort it out eventually, but at first, it's all like BOOM.
You will pee your pants for a while. I know you don't believe me, but if you had a vaginal birth, not only will you poop during labor, but you'll pee your pants until your pelvic floor tightens up again. Stock up on Depends, and bid your dignity bon voyage. 😉
OK, so what does all this mean for training? First, know that you're looking at 6-8 weeks before you are cleared to start exercising again. You will be tired, and, if you're breastfeeding, your body is still cranking out mucho hormones which may contribute to laxity (looseness) in the joints. You'll be overwhelmed, and, if you're the first person in your tribe to pop a bun out of the oven, you may feel like nobody understands what you're going through (hint: they don't).
"Miss Laura, this sounds horribly depressing…."
Sorry!!! I don't mean for it to be, truly! Let's look at what you CAN do to set yourself up for Phase 2.
Heal like it's your job. Because it is. Your vagina just exploded – let it heal. Your abs were just stretched out to infinity, too – it will take time for them to shrink back down to a place where they can function meaningfully again. Taking time to heal is one of the BEST ways of getting back in the air faster.
Start training your pelvic floor. Remember our friend Kegel? If you're not familiar, it's time to get intimately acquainted. You can start doing this as soon as you can "find" the muscles after birth.
Zip up that tummy! My favorite post-partum exercise was The Zipper. After a week or two, when you can start to find the muscles again, you "zip" from your pelvic floor to the top of your abs. Do a Kegel, now try to find the muscles that bring your belly button to your spine. First try it lying down, then progress to standing. It may not feel like much at first (in fact, it may not feel like anything at first). Keep at it! Here's a great list of exercises, and here's a great DVD from trapezista Karyne Steben. ** If you notice an increase in bleeding, or a re-occurrence of bright red bleeding, stop exercising  and call your health care provider immediately.
The take-away? Having a baby is overwhelming. Heal, and be gentle with yourself in this first 6-8 weeks. You'll be ready to kick your own ass again soon. Feeling like a failure because you're not back in performance shape in two months? Fuck that. You may fly back into the air. You may army crawl. None of that says a damned thing about how good, professional, or strong you are. You are enough, beautiful mama. 
This got kind of long, so stay tuned for Part 2 (months 2-6), where we dive into the best way to get your aerial lusciousness back, and what kind of a timetable you're looking at for feeling like your old self again. Love and pull-ups, Laura

As always, if you like this post, share it on your blog, the F-books, Twitter, and wherever else you crazy kids are sharing things these days.