The Aerial Arts and Fitness Association Expo will be held this year in the beautiful central city of Des Moines, Iowa. Aerialists from all over are coming for three days and two nights of competitions, performances, workshops, shopping, networking, learning, and FUN! In between it all, hang out with everyone during the open aerial gym time. Come join the celebration of all things aerial!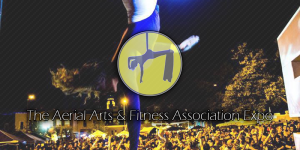 ---
www.AerialExpo.com
---
July 25-27
Misfit Cabaret- Opening Night of the Expo
Central Iowa's latest production focusing on showcasing quality variety entertainment, promoting local artists, and creating performance opportunities.


Two Different Showcases
The Aerial Expo showcases give aerialist opportunities to perform at the Aerial Expo without competing. This also give attendees and the community a chance to see a variety of artists perform who may not qualify for the amateur competition.
This is not a competition. There will be not be trophies, ranking, or scores either for showcase performers. Judges may be present as guests to enjoy and watch the show, but there will be no score keeping or evaluations.
Enjoy a spectacular show! Artists from all over the country will showcase their aerial skills. Special performances by Expo instructors. 
Competition
Accepting registration for the amateur aerial competition now!
Think you are not ready to compete? This is an amateur competition! You will be surrounded by friends and supporters and will receive feedback from the industry's top aerial professionals! Do something for yourself! Take the leap and register today!
BONUS: All competitors receive a weekend pass and access to everything the expo has to offer!
After Party Saturday Night
Join after the competition us as we celebrate all the hard work that the 2014 Expo competitors put in, as well as the showcase performers, workshops leaders, and expo attendees.
Aerial Lounge / Open Aerial Jam
A place to hang out (pun intended) with other event goers, network, and play!
Workshops
Aerial Silks, Aerial Hammock, Lyra, Corde Lisse, Doubles, Mini Aerial Cube, Aerial Straps, Kids Aerial, Intro to Aerial, and MORE!
Not to mention more non-aerial workshops like pole dancing, breakdancing, burlesque, acro-yoga, just to name a few.
Master Workshop Leaders and Judges: Suwasit, Caty Mae, Rachel Bowman, and Brett Womack