Yes, YOU, Dear Dangler! Do you work in foot knots with a soft knee? Quit it. Straighten your damned supporting leg, and watch your work get STRONGER, with bonus fabulousness!
What's the Big Deal?
Aside from looking sad and shriveled, a bent knee sucks the power out of your leg and makes it SO much harder to haul your butt around. Remember the "boneless two year old" experiment? Same principle. Tight, lifted limbs are easier to work with, and pinchy bits become less pinchy. So, make like a Rockette already!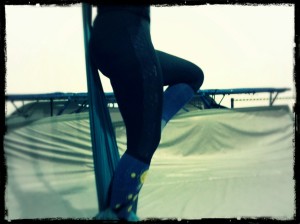 Lift Your Kneecap!
It's not a difficult fix, but it IS tough to make it a regular thing if you're a habitual knee-bender. Tighten the muscles on the front of the thigh (quadriceps) until you feel the knee cap (patella) lift. Your leg is now straight! You can also try pretending that you don't have knees, or practice actively pushing through your supporting leg. **For all you hyper-mobile joint folks (do your knees bend backwards?), that's a whole other post. **
For the record, this applies to all circus disciplines, not just aerial work. If you're standing on a leg and it's supposed to be straight, liiiiiiiiiiiiiiiiiiift! If you are battling a very sticky habit of "soggy knees," consider taking an occasional ballet class; nothing cures bent walkers faster than watching them in a mirror! A militant French ballet teacher with a stick doesn't hurt either (actually, it does hurt…).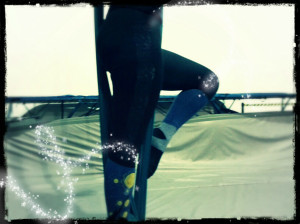 Look how fancy! If you do this ONE THING, your work will make a HUGE leap forwards!!!! If saggy baggy knees are plaguing you, make a commitment to yourself to crank 'em up – what a difference it will make! 🙂 Love and pull-ups, Laura
As always, if you like this post, share it on your blog, the F-books, Twitter, and wherever else you crazy kids are sharing things these days.