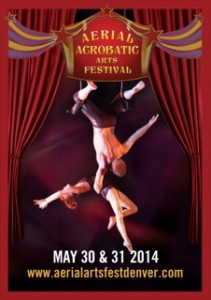 Know what's awesome? AERIAL ARTS FESTIVALS!!! Workshops, competitions, and more – oh my!
WHEN:
Shows on Friday, May 30th and Saturday, May 31st 2014 at 7:00 pm
Workshops for the beginning and advanced aerialist from May 28th-June 1st, 2014
There will be a Pre-show Fun Fair  both nights. Food, Jugglers, Clowns, StiltWalkers, & More!
6pm to 7pm May 30 and May 31
WHERE:
Eugenia Rawls Courtyard Theater at the Kenneth King Academic and Performing Arts
Center; 855 Lawrence Way; Denver, CO 80204 – Auraria Campus
WHAT:
The Aerial Acrobatic Arts Festival brings amazing aerialists to Denver for two
competition shows Friday, May 30th and Saturday, May 31st. Since 2011 The Aerial
Acrobatic Arts Festival has brought over 60 spectacular circus artists to Denver. Former
participants have gone on to careers with Cirque du Soleil.
ABOUT:
Audiences will be thrilled by daring feats of grace, strength, and flexibility on trapeze, straps, rope, hoop and fabric. Finalists are chosen in each discipline at the Friday May 30th semi-final show. Finalists compete Saturday, May 31st for the awards of Best Technical, Best Artistic, Audience Choice, and Best Overall Performance. Aspiring aerialists will have the chance to participate in workshops May 28th-June 1st to help refine their technical, artistic, and performance skills.
WHO:
Produced by Lynn Coleman, former Denver Public Schools Board of Education member and second-generation Denver circus family. Artistic Director, Marshall Garfield, former head coach for Cirque du Soleil. General Director, Tatanya Hamermesh, local aerialist, third-generation Denver circus family, and cancer survivor.
Tickets go on sale April 12 – don't miss out! Shows May 30 & 31, 2014.