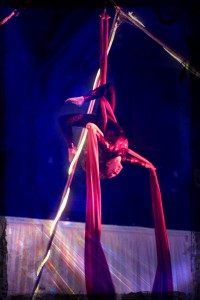 So, Dear Danglers, I'm sitting here drinking a gallon of coffee (Magic Elixir of Life), and watching my guilty pleasure: "The Sing Off". Oh, how I love it! It pushes every cheesy musical button I have. Anyhoo, as I was watching this morning, I was struck yet again by the difference between artists who perform with their whole soul, and those bobble heads who look like they fell out of a Miss Universe pageant (Constipated Performers). Give me authentic and raw verses slick and sanitized any day! So, how do you avoid looking like you need a Metamucil IV stat? Re-think your goals.
Your Goal in Class is Probably Wrong
When you first begin your training, the emphasis is on learning foundational technique, broadening your movement vocabulary, getting stronger, and trying not to fall down. As you gain strength, confidence, and learn how to straighten your supporting leg (STRAIGHTEN YOUR DAMNED SUPPORTING LEG!!!), many of you begin to place the emphasis on cramming your head full of as many new moves as you can. WRONG! Let new moves be the "spice" of class, but the meat and potatoes should be cultivating your own style in the air. You can't begin too early with this! Once you're working comfortably and confidently in a move, your next question is, "How do I make this MINE?" There is only ONE YOU, and please believe me when I say that the world does not need any more aerial automatons.
---
Tweet: Let new aerial moves be the "spice" of class, but the meat and potatoes should be cultivating your own style in the air.
---
6 Ways to Loosen Things Up
What do you like? How does YOUR body like to move? What feels good? What looks good? Are you "liquid" in your movements? Sharp? Flexible? Strong? Start answering these, and you have a great place to start.
Now, PLAY! Some of the best advice I ever got (thank you, Vladimir Chvalbo!) was to take a move – ANY move – and see how many ways you can play in it. Bring yourself up, down, sideways, backwards, left, right – PLAY.
Work that tempo! Nothing screams snooze-fest more than an artist who only moves at one speed. We ALL have to fight against this – it's comfy to work at "our" tempo all the time! Vary that rhythm, friend – shake it up! (… and down, and UP, and down, JAZZ HANDS! TURN TURN STEP KICK SHIMMY BAM!!!!!…. ahem. Sorry – accidental dance break…)
What do YOU have to say? What are you expressing with your body right now? Doesn't have to be all angst and underpants, it can be joy, freedom, desire, melancholy, fierceness – anything! Start playing a bit with bringing the inside out. (WARNING: this takes some bravery and vulnerability, so start small if you're nervous! Instead of "crushing defeat", maybe try "a little disappointed". Instead of "I want to rip your clothes off", try "call me maybe". You get the idea.)
Dance like nobody's watching! We can get REALLY hung up on not wanting to look stupid. I get that!!! But being free from the good opinion of others is like a muscle that needs to be worked out. Take tiny creative risks – move your arm or leg, roll your head, etc. Little by little, you'll get braver and braver. Today? An arm sweep. Tomorrow? The world. (note: if you're in a class that isn't supportive of creativity – teacher or students – find a new class. Your teacher is there to keep you safe and teach you good technique, not squash your creative soul.) 
Video yourself! You'll never know if that hair-ography is doing you proud unless you video! Always ask your teacher (different instructors have different policies), and remember – your classmates are your classmates, not your personal videographers. When you watch yourself, remember – BE GENTLE WHILE YOU'RE BEING HONEST. You're trying out new stuff, and being very brave. Make a note of what doesn't work, and focus on what does. Now, do more of the latter!
 It's the best thing in the world to see someone working from their soul as a completely unique individual. Some folks fall into this naturally, but most of us have to work damned hard at that kind of performance or approach. So start where you're comfortable, and then sneak a toe outside that comfort zone. You'll be glad you did (and so will your audience). Baby steps, ya'll! Love and pull-ups, Laura
Here's what got me going this morning. Wait till they "take it to church"!
As always, if you like this post, share it on your blog, the F-books, Twitter, and wherever else you crazy kids are sharing things these days.