Hello Dear Danglers! Ask and ye shall receive! Here are photos illustrating the three steps to a glorious hip key – enjoy! Love and pull-ups, Laura
(excerpted from "The Secret to a Sexy Hip Key")
The 3 Parts of a Sexy Hip Key
I'm not going to go deeply into the physical mechanics of a hip key – your instructor can take you through that. But I WILL let you in on some secrets to make it smokin' hot!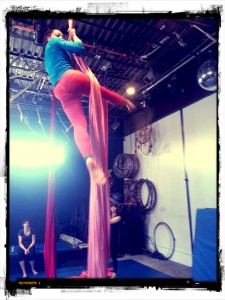 1. Red lipstick. OH – and a solid first position I like to call, "Look at your butt." First, make sure your elbows are glued to your waist. Let's say I'm keying right. I bring my fabric to the right side of my body (as if I were inverting). I then bring my right leg straight forward, my left leg back. Now, look at your butt – there should be a fabric on it. Legs should be straight here (bent legs = Poopy Technique).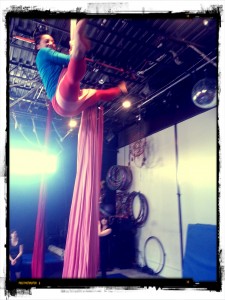 2. Sassy librarian hair. AND a very wide straddle! After the fabric is on your butt & you scissor it between your legs, you should do the biggest, most indelicate straddle you possibly can. Your legs should be even, and straight out in front of you. DON'T allow one leg to go higher than the other – you should look as if you're sitting on the floor.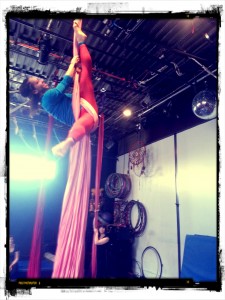 3. Stilettos. Tap the taut ("live") fabric with the left foot as you key over. Leg too low to tap? You've got Droopy Drawer Syndrome – your butt's not high enough!
Many thanks to the stunning and gorgeous Ashley Ortiz (who I totally ambushed with these photos – heh heh).
As always, if you like this post, share it on your blog, the F-books, Twitter, and wherever else you crazy kids are sharing things these days.