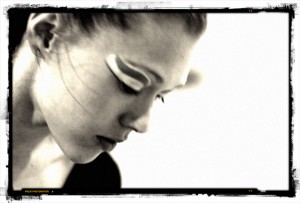 Happy Thursday, Dear Danglers! So many of you have emailed and asked the great, burning question of our times: "How do I know when it's time to go pro?
Should
I go pro? What's the first step?" Let's take a look-see, shall we?
 Get Your Head in the Game
Going pro is, first and foremost, a decision that you make. It informs everything from the way you take care of your body, to your training, to the way you approach your business. Are you one foot in and one foot out? It's fine if you are, but you probably won't make much headway anytime soon. Going pro means being all in – heart and soul. You know you're in that head space when you:
 Buckle down:  decide to take your training seriously, and show up every day and do the work whether you feel like it or not
Commit:  make the decision that no matter what – come hell or high water – you are going to be a professional aerialist. Bring it.
Assess: cultivate an accurate assessment of your bodys strengths and weaknesses
Nourish: pay attention to what you put in your body (in every sense, people. Step awaaaaaaaaaaaay from the nachos and that guy with the skinny jeans. ESPECIALLY the guy with the skinny jeans.)
Protect: begin training with an eye towards injury prevention and longevity. If your body wears out, where are you gonna live? Who's going to do your act?
Invest: shift the focus from, "I want to be a circus star!" to "I am a part of an incredible community!" and aim to structure your future business to support that community rather than undermining it with unhealthy business practices (that make me stabby)
Think: begin to see yourself as a (completely amazing) product, requiring marketing, promotion, and industry savvy
Connect: seek out reputable mentors, check your ego at the door, and become a sponge for solid career advice. Hint: look for someone living the dream. No, the luscious guy who teaches your Zumba class is probably not an appropriate mentor (but take him to lunch anyway. And when did we start becoming appropriate?)
I totally wish the first letter of each of these spelled out someting cool, but I gave up about half way through my morning coffee. Just pretend!
Am I There Yet? Maybe….
When you stop dabbling and really commit yourself to the insanely hard work of becoming the best damned performer you know how to be, you're on your way.  Try to see the big picture – begin with the end in mind and structure your training accordingly. When you hit the "sweet spot" of this internal shift, suddenly everything becomes inspiration for your work, and ideas are everywhere. You will be en fuego!!! Here's to you being unstoppable, Dear Dangler! Get to work! Love and pull-ups, Laura
As always, if you like this post, share it on your blog, the F-books, Twitter, and wherever else you crazy kids are sharing things these days.