I am pee-my-pants excited to tell you that my little bloggie is now available on Kindle! WOOT!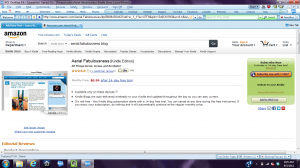 NOW, Dear Dangler, I need your help! I need you to show me the love! If you enjoy this blog (and I hope you do!!!), won't you please tell the world? Here's how!
Click here to go to my page on Amazon – the blog is called Aerial Fabulousness.
Click that little 'Like' button under the title.
Leave a quick review while you're there!
That's it! (also – you can actually subscribe if you feel moved!) Thanks so much in advance – this blog is a labor of love, and it tickles me right down to my tippy-toes that so many of you find it helpful. So, gimme a virtual high-five, Dear Danglers, and I'll see you in the air! Love and pull-ups, Laura
PS – Hey – click one of the little social media doodads below & share the good news!