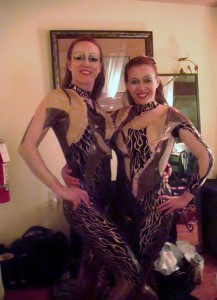 I write this to you from a gig, Dear Danglers, where I am minutes away from spackling on my makeup, squeezing myself into my Spanx, and gluing my lids together as I apply my lashes. Now, do you NEED all of this? Maybe, maybe not – depends on the show and your personal performing preferences. But, for today's chat, let's look at some of the things you may want to have in your bag-o-tricks for your average event.
Phony-tail . Does your hair explode into a glorious Brillo pad at the first sign of humidity? Are your locks looking a hair limp (HA!)? Enter the phony-tail! Fake pony tails or hair pieces that fit over your bun & can take you from zero to glam in the time it takes you to stab yourself in the head with a few bobby pins. Worth a look if your hair needs help or if you just don't want to deal with it. Also? Hairspray – it can double as rosin in a pinch.
A wide assortment of flesh-colored seamless undergarments. Thongs, Spanx (body smoothers), over-the-shoulder-boulder-holders, tights, etc.
Makeup! We use Ben Nye color wheels a lot, as well as cheap red lipstick (is there any other kind?), false lashes, GLITTER GLITTER GLITTER, black eyeliner, and loose translucent powder to adhere the whole mess to your face. Don't forget the baby wipes to take it all off.
An emergency bag with thread and needles (black & white), bandaids, small scissors, bobby pins, Nu-Skin liquid bandage, safety pins, duct tape, ibuprofen, etc.
A good bodice-ripper (trashy novel), magazine, or other reading material that doesn't require too much concentration.
A hoodie and layers of warm up clothes – those ballrooms get CHILLY.
Snacks and Red Bull water – you never know what you'll get at these things.
That's a good starting place, and you'll add things to the list as you get a few seasons of performing under your belt. Pros – what have you found to be really helpful in going from zero to drag queen? Is there anything you can't do a show without? Leave your answers in the comments below! Love and pull-ups, Laura
 As always, if you liked this post, share it on the F Books, Twitter, your blog, and wherever else you crazy kids are sharing things these days!