Hey peeps! ImaginAerial is livin' la vida loca down here in Chatanooga, TN for SETC. Sooooo, guest blogger Michelle Dortignac schools us on the benefits of aerial yoga for us dangly-type folks. Enjoy! Love and pull-ups, Laura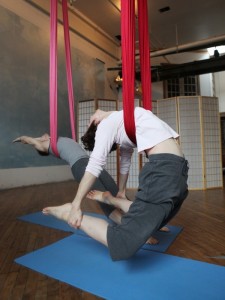 Michelle says:
With the increasing popularity of all things "aerial," a new type of fitness class has emerged on the scene – Aerial Yoga.  At first, it may appear that Aerial Yoga is simply a basic "aerial hammock" class, which leads many aerialists to overlook adding these unique Yoga classes to their training routine. 
But, look again and aerial performers will find the numerous benefits Aerial Yoga has to offer.
No matter what the style, when a person practices Yoga, they consciously and purposely activate their parasympathetic nervous system.  The parasympathetic nervous system is the part of us that deactivates the fight-flight-freeze instinct.  In other words, the practice of Yoga is the practice of actively relaxing. 
How on Earth could the practice of "actively relaxing" benefit an athlete who is searching to get stronger and more flexible?  Let's take a look:
 1) PRACTICING ACTIVATION OF THE PARASYMPATHETIC NERVOUS SYSTEM COMES IN HANDY IN ANY STRESSFUL SITUATION, LIKE WHEN YOU ARE SAY, 30 FEET IN THE AIR.
Let's face it – everyone has a natural fear of heights.  The higher you go, the stronger the fear kicks in.  And when you add on the pressure most people feel when performing in front of an audience while trying to remember choreography and avoid any costume malfunctions…  Even though its fun, performing aerial acrobatics can also be quite stressful. 
A good Aerial Yoga class trains students how to actively relax while moving around on an aerial apparatus.  Obviously, this would be handy for aerialists of any level. 
In addition, if practiced regularly, Aerial Yoga helps students readjust their idea of what is a "neutral" stress level.  Many of us have adapted over time to an elevated level of stress, leaving us no longer aware of what neutral feels like.  If you can reset your stress level to zero before you walk into the gig, you're already one step ahead.
2)  LEARNING HOW TO "ACTIVELY RELAX" WILL BRING A QUALITY OF GRACE TO YOUR PERFORMANCES.
Perhaps you've noticed when a person is in that state of "fight-flight-freeze," their movements are quite jerky, not smooth.
So, if you can learn how to be relaxed (in your mind) while still being active, you will take the jerkiness out of your movements and find more fluidity.  You will be able to transition easily between moving quickly, moving slowly, and pausing.  From the audience's point of view, you will look like you have more control of your body, and that you have grace.  Check it out.  The next time you go to an aerial show, take note of which performers look more professional, and why.   
3)  ACTIVATING THE PARASYMPATHETIC NERVOUS SYSTEM HELPS US LET GO OF WEIRD POSTURAL HABITS WHICH GET IN THE WAY OF LOOKING GOOD AND FEELING GOOD.
Our fight-flight-freeze instinct activates certain muscles that would help us fight, flight and freeze – namely, it elevates our shoulders to protect the neck, rounds the shoulders forward and tucks the tailbone to protect our vital organs, slides our heads forward to assist with running, and tenses our thighs/hip flexors to either curl us into a ball shape, or to ground our legs for running and fighting.
For many of us, living with an elevated stress level causes those muscles to stay chronically tight, pulling our spine, neck and limbs out of natural alignment.  When we return our bodies into a more natural alignment, those visual "lines" we strive for in performance begin to emerge.
In addition, some of the muscles that stay chronically tight through living with an elevated stress level are also used to climb, invert, lock into a hip hang, etc.  Those muscles can easily and quickly get over-used, making it harder to develop strength, and sadly, easier to sustain an injury.  If we can return our bodies to their natural alignment, it is much easier for us to sculpt our body into the desired shape of an aerial performer.
MICHELLE DORTIGNAC is the founder of Unnata® Aerial Yoga, and has been teaching Unnata Aerial Yoga since January, 2006.  For more information on the style and where to find classes, visit:  http://www.AerialYoga.com